UO

MEN'S SPORTS
The University of Ozello has long been thought of as a powerhouse in small, small college athletics. With our limited enrollment, OU has had enough players to actually fielded a football team only 16 times throughout the last 100+ years.  Our tradition is intact.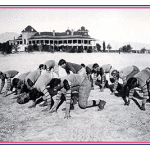 The 1902 University of Ozello Sleepin' Dogs made the school's only bowl appearance to-date.  After going 4-2, this feisty bunch was invited to the Mullet Bowl in Pensacola, Florida against    astrong Mobile Junior College.  After a close first half, the Sleepin' Dogs began to tire and lost   by a final of 42-10.  After the loss, Dog's Coach Willie "Leather Head" Thomsen said "Our guys were tired due to the long wagon ride from Ozello.  I was proud of our five safeties though".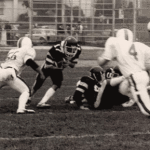 Another shining moment in the rich history of UO football was the 1976 team.  While the team had only 14 players, they went 5-5.  The star and acknowledged as the best player in UO history was RB Benny "Big Load" Waldena.  The Big Load rushed for 1265 yards in his freshmen year.  The future of UO looked bright.  However, the "Big Load" was arrested during the off season for aggravated assault, attempted murder, possession of cocaine and child abuse.  He was expelled from the team and went on to star for the Miami Hurricanes for the next three years.
---
**UO Men's Basketball also has a very rich tradition.  Coach Abe "Down Town" Munroe said "It helps only having to have 5 players to compete.  We tried it a few years with 4 but the results we less than stellar, too much zone defense".  Basketball photos coming soon!