University of Ozello Women's Sports
"The Sleepin' Dogettes"
The UO Dogettes have been long recognized as a force in small college women's athletics.  In fact, most years when the girls varsity team competes against the UO men's team, the women are triumphant.  The men's team simply can't compete with the women due to the women's overwhelming edge in both height and weight.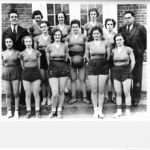 The 1923 UO Dogettes women's basketball team  went 14-0 in the Western Florida League.  They advanced to the National Tournament but were disqualified due to their "abnormally short" shorts.  When ask about the disqualification, team captain Susie Bulvomn responded, "It is hot in Ozello, so we wear as little as possible.  Next they will try  to make us
wear bras or something".
---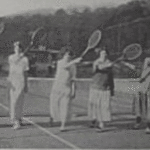 Pictured is the 1st UO Women's Tennis Team.  In fact, they were the 1st women's team in Florida.  Their record was 0-0 since they had no competition.  A local sportswriter at the time commented "It's sad.  They can't play a match so they spend all of their time hanging out on one side of the court, pretending like they are hitting the ball".